The master bedroom should be a quiet retreat from the rest of the house. A place to relax, unwind and, of course, sleep. At FurnitureCart we believe that bed is the heart of the bedroom. We are experts at helping you find a comfortable bed that meets your needs as well as your sense of style. Our high quality beds are crafted from the best materials, so they add effortless and long lasting beauty to any bedroom.
Beds have transformed from just being another furniture item that facilitates a good night's sleep. Today, with people prioritizing the overall look and decor of their homes, beds have, more or less, become artifacts that adorn the bedroom. Different styles of beds work for different people and different bedrooms. Fortunately, there are several styles, from the simple elegance of a panel bed to the functional practicality of a storage bed, that can make your evenings a more restful time.
The gentle curves of a sleigh bed can't help but to add elegance to any bedroom, but their style is still simple enough to not be overpowering in an average to small-size bedroom. (Best Seller: North Shore Sleigh Bedroom Set by Ashley Furniture)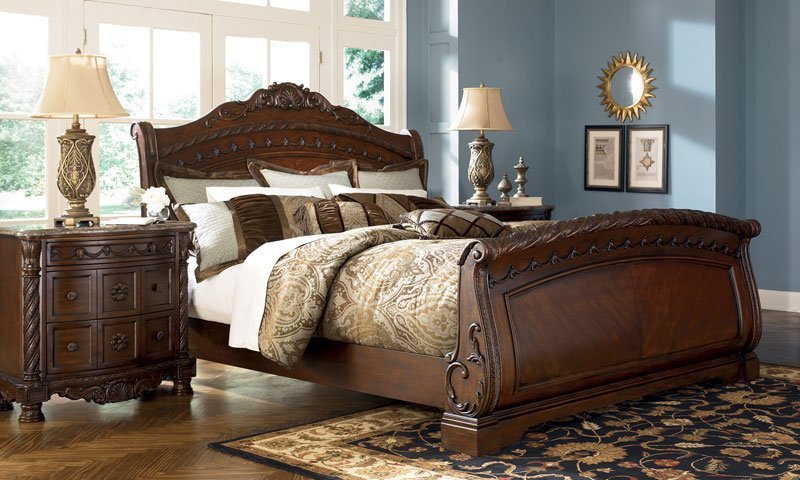 The Empire-style sleigh bed was originally adapted in the 19th century from fragments of excavated Roman furniture. The swept-back profile of the Sleigh Bed is more than just classically beautiful – it's incredibly comfortable for reclining. The sleigh beds are the perfect choice for people who want to add a classic touch to their bedroom without going overboard. (Staff Pick: Burkesville Bedroom Set by Ashley Furniture)
These beds are called so because they have high headboards and footboards that role outwards making it look like a big sleigh. These are the right blend of classic looks and modern designs without compromising on the comfort and quality. The beautiful twirls and flourishes add to the beauty of the bed and impart a regal look that can transform even the simplest bedroom into something classy and appealing. (Designer's Choice: Hayden Sleigh Bedroom Set by Intercon Furniture)
The sleigh beds are slightly expensive as compared to other counterparts in the market. If you are looking for competitive pricing alongside good quality, purchasing online is the perfect option. (Top Pinned Product: South Coast Sleigh Bedroom Set by Ashley Furniture)
The FurnitureCart.com is a great source if you are looking for bedroom furniture in the New Jersey, Maryland, Delaware, New York, Virginia and Philadelphia area.
Are you a proud owner of a sleigh bed from FurnitureCart? Let other shoppers know about your experience! Post a Product Review on FurnitureCart.com Reviews Page!