When it comes to choosing furniture for the home or office many people will want something that looks good and will last a long time. At FurnitureCart we have a great selection of wooden furniture pieces by top manufacturers such as Ashley Furniture, Homelegance, Coaster, or Samuel Lawrence Furniture. In this article we will explore the major types of wood, and how you should consider them while buying your wood furniture.
Mahogany? Maple? Oak? Birch? Pine? Or?
There are many types of wood. They vary in softness and hardness, flexibility, and even what pattern the grain of the wood makes. There is one main difference between hard and soft wood. Trees that generate soft wood are evergreens and have needles that remain year round (pine, spruce, redwood, or cedar). Hardwood comes from leaf trees that loose their leaves annually (birch, maple, cherry, oak, ash, walnut, or mahogany). Hardwoods usually offer greater strength and stability. Softwoods are used for intricately carved pieces.
• For bedroom furniture cherry and mahogany are the best choices. They usually feature nice finish and very durable. Cheaper woods for the bedroom include beech and pine. They are inexpensive and work great in children's rooms. Recently aromatic cedar is used for drawer construction what helps to repels moths and leaves behind a fresh smell. You should remember, however, that cedar is a soft wood so for durable drawers, hardwood construction is the best.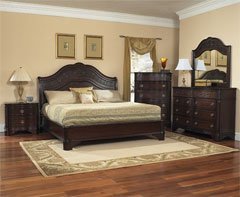 • Maple and pine are for the kitchen furniture. Pine can be easily re-painted and stained in the future. Maple is sturdy and attractive but can be costly to use. However, it can handle a lot of weight and will last much longer.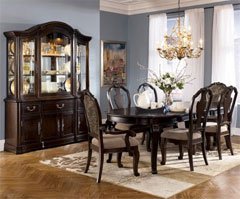 Take care of your furniture:
• Read the manufacturer's care directions for wood furniture carefully and keep them for future reference
• Wax or polish your hardwood furniture occasionally.
• Keep humidity at 25 to 35 percent.
• Don't expose hardwood furniture to continuous direct sunlight.
• Don't place hardwood furniture directly in front of heater or fireplaces.
• Keep table leaves as close as possible to the table, so that they will adjust to the same humidity level.
• Clean hardwood surfaces with a mild non-alkaline soap and water. Dry immediately with a soft cloth.
Overall
Furniture made of solid wood will give you the most use, as it is more durable and sturdy. The top woods to consider while buying the furniture go in this order: mahogany, cherry, oak, maple, beech and pine. Mahogany – most durable, but is also expensive. Pine and beech woods are cheaper, they still make excellent furniture. Hardwood is overall a good investment because it will last a long time and will add charm and distinction to your home. Veneer; however is a good alternative for pieces that don't get much use.